Latest update: 05/15/2021
Dear guests, business partners and friends,
We have been closely monitoring COVID-19 updates and we follow all the guidelines that are set by our National Health Organization. We did all the changes needed to be secure, for you, your beloved ones and for our staff as well, by activating and applying all the precautionary standards which have been issued or will be issued during your stay here, to guarantee a safe, healthy and welcoming environment for the best possible holidays in the island of Naxos and the relaxing beach of Plaka!
To help you navigate through your travel plans, we have launched the dedicated COVID-19 Response webpage via www.blueharmonynaxos.com  We will continue to update it with the latest information and for more details, you may also contact us at info@blueharmonynaxos.com
The main measures & procedures that have been taken in accordance with the instructions of the competent Ministries of Health and Tourism are the following:
1. Book & Accommodation
• We provide maximum flexibility on your travel plans by offering free cancellation up to 7 days before arrival.
• We extend the check-out – check-in. Check-out will take place at 11 a.m. while check-in is transferred at 15.00 p.m. to thoroughly clean the rooms.
• Providing check-in, in our outdoor space.
• We advise our guests to keep two (2) meters distance from each other, while approaching any indoors help-desk.
• We provide a face mask for our guests in case of coughing and/or sneezing in any indoors public space of the hotel.
• For our guests' Room Service, we apply procedures for ordering, delivering, and collecting trays.
• We encourage our visitors to get in touch with any member of our team for recommendations and/or remarks that will improve our services.
• Contactless delivery of invoices and receipts via e-mail is provided and recommended.
2. Cleaning - Disinfection
• Deep cleaning of all areas, using portable sterilization lamps, with ultraviolet UV radiation.
• Intensification of cleaning and disinfection frequency, especially, in spots that are touched frequently.
• Disinfection of all equipment such as room keys and POS.
• Intensification of cleaning and disinfection in air conditioning filters.
• Natural and intensive ventilation in all areas.
• More frequent cleaning and disinfection of common toilets.
• Use of wipes or spray with disinfectant and microfiber cloths with color separation, which are washed properly and regularly.
• Laundry is done on-site to avoid unnecessary contact with others outside the complex.
3.3.  Personal Hygiene and Health
• Training of all staff in preventive measures, personal hygiene and the new way of working. Certificate of participation for the training to all employees is provided.
• Checking the validity of health certificates of all staff.
• Infrared thermometer available at the reception.
• Dispensers with hand sanitizer (63-70% alcohol) are placed in the reception for the guests.
• Dispensers with hand sanitizer (63-70% alcohol) are placed in the workplace of all staff.
• Individual dispensers with hand sanitizer (63-70% alcohol) are placed in the rooms of our guests.
4. Food Safety
• All food will be protected according to Health Protocols.
• Cleaning and disinfection of all kitchen equipment.
• Checking of stored foods.
For all of the above, Blue Harmony Apartments is also certified with the Health First Certification.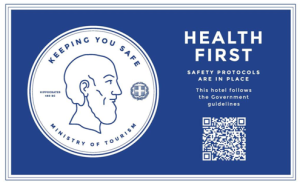 Thank you again for your preference and we look forward to welcoming you to Blue Harmony Apartments.
Kind Regards,
Emmanouil Papadopoulos
Kleoniki Theodoraki